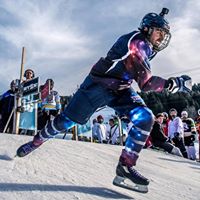 Most of you know that a hand full of the master skaters make a yearly pilgrimage to SLC for Derek Parra's Master's Camp..  Personally I enjoy trying to stay current in the sport,  doing something different for a few days and also meeting and hanging out with very cool and accomplished folks.
One of the skaters at the camp is Jack Schram.   He comes to speedskating from a different path than most. He's a  Crashed Ice skater.  This is an extreme winter sport where skaters race downhill.   Jack's skating skills are amazing, most speedskaters are happy if they can figure out how to turn to the right!!!
Check out this video of what Jack can do!!:   Crashed Ice
If you like it, please subscribe to Jack's Youtube channel and  Jack's Facebook Page
I just got back from a Crashed Ice race in Austria and launched my YouTube channel. I uploaded my round of 64 race for you guys to check out.
I hope you guys like the ice cross downhill POV. I ended up 38th/153 in the race (it is important to stay in the top 64)…thanks to the Master Camp!
Enjoy!
Thanks!!