Start out on the right foot. Here are some simple steps for making sure you have a great time when you first start speedskating!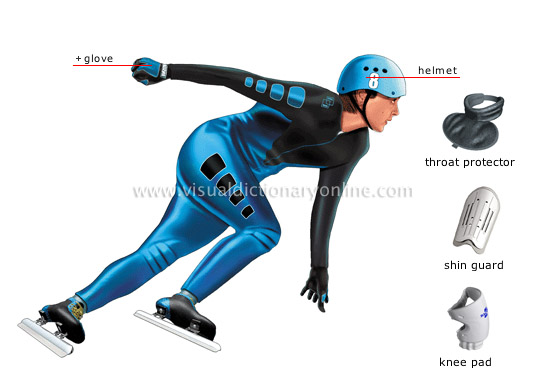 Click here to contact us .   We will want to know a little about your skating experience so we can help you make the most of your first skating sessions. if you have very little experience, please consider attending the Oakland Skate School program. There is very little instruction available at the speed sessions, especially from November through March when skaters are training for race events.
Rental speed skates are available at Oakland and San Jose for $5 per session. Plan to arrive 30 to 45 minutes before the start of ice time. You may need to try on a couple of pairs of skates, and supplies are limited. Required: long pants, long sleeved shirt, skating or bicycle helmet, gloves. Highly Recommended: knee pads. Skateboard, rock-climbing or skiing helmets are acceptable.
Oakland skaters need to sign this waiver.
Skaters under 18 will need a parent or guardian's signature on the waiver.
San Jose Speed Session – pay at the front counter in San Jose and sign the form.
Club session Oakland: Pay club representative directly (we'll send you to the right person).  Please click on the following link for pricing:
Oakland Location and Fees
San Jose Location and Fees
SAFETY RULES are for the safety of all skaters on the ice. It is critical that young skaters DO NOT cross the track without permission of a coach. The rink-side doors must remain CLOSED during the session, as an exposed door-jam is an extreme danger to a fast-moving skater. Late arrivals must wait until a coach allows the skater onto the ice. Wave and shout to get someone's attention. DO NOT OPEN THE DOOR without permission.
An adult will be in charge of the work-out, and will let you know when its your turn to skate laps.
Work on one to two skills per session. A coach may tell you what to work on based on the progress you are making. You may ask for help. Private lessons are not available during the speed sessions. No private coaches are allowed at the speed sessions.
Set realistic expectations! We want you to come out and have a great time. Do not get discouraged; becoming a great skater takes time.
Get enough sleep the night before. This is a strenuous activity!
Eat at least an hour before arriving at the rink! You're going to need the energy. Carbs before a workout; protein within 10 minutes after.
Do a basic warm-up before the session starts.
More questions? See the contact info on the home page.