Dear Parent:
We want all skaters to have a good experience at the speed skating sessions.
The speed skating club was started in 1988 to allow speed skaters to have a place to skate fast. The program initially was for adults, with children of speed skaters joining in.
Fast forward to the present: The speed sessions are where we go to skate fast.
Coaching is provided at no cost to help newcomers to join our sport, but the coaches are skaters, and are primarily there to get a workout.
Our speed skaters range from skaters who race in world championship events to novices, from age 6 to 70+. Mary and Greg Wong have earned coaching  certification through US Speedskating.
Skaters must be on speed skates. NCSA has a limited supply of skates to rent.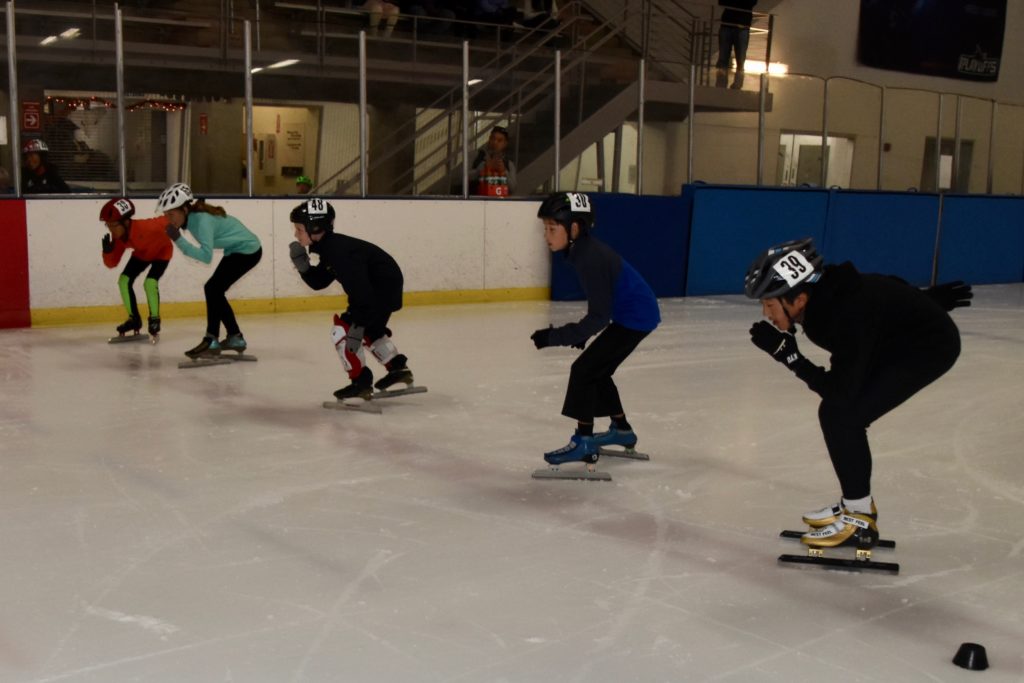 SPEED SESSION RULES
DOORS MUST REMAIN CLOSED during the speed sessions.
Skaters are not allowed to enter the track, cross the track, go to the wall, except with the permission of the head coach. Any time a door is opened, the open door jamb creates an extreme hazard and the speed session must be stopped. If a skater is standing at the wall, they are in a dangerous location! If they are hit by another skater, both can be severely injured.
Therefore, parents, if you want to speak to your child, get the attention of one of the adults on the ice. DO NOT open the rink door. Do not call your child to the side wall!
PLEASE, get to the rink on time! Make sure your child has their water bottle, jacket, gloves, etc. before getting on the ice.  Make sure their skates are laced properly. Make sure your child has used the bathroom before getting on the ice.
There is no skating allowed until all the pads are set up, and the doors closed. Skaters are expected to assist with pad set-up and removal.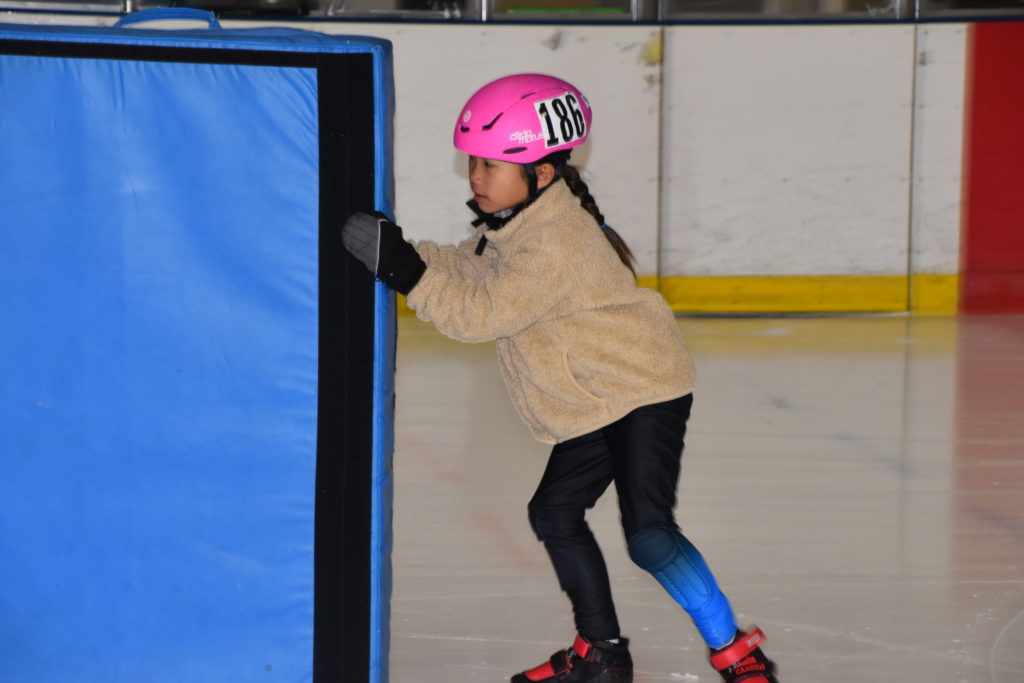 Skaters must follow the instructions of the person who is assisting to run the skating session.
MY CHILD IS UNDER 9 YEARS OLD
Speed sessions are very intimidating. The bigger skaters are moving at over 25 mph and safety is the primary concern. Young skaters must be mature and independent enough to follow instructions. Young skaters must be able to wait patiently for their turn. They must have enough skating skill to get around the rink on their own without assistance. If your young skater is very shy, or is still a beginning skater, we recommend that they wait until they are a little older or more independent to join the speed sessions. If your child is 9 years old or younger, please take into consideration that they may be too young to join the speed skating session. We want all skaters to have a good experience. Please consider your child's maturity first. Just because they are good skaters and they like to go fast, does not mean the speed session will be a fun experience.
PRIVATE COACHING? No private coaches are allowed at the speed sessions. Very comprehensive basic speed skating lessons are provided during the "off season," from April to August.  BASIC LESSONS are for speed skating form and technique. As the season progresses, the speed sessions shift emphasis to faster laps and workouts for speed and endurance. Lessons are NOT geared for children who are beginners, or skaters who only want to go fast not learn technique. Skaters wishing to advance to a high level of racing ability may wish to look at the programs provided through the FAST team at the Kearns Olympic Oval, or the ACE program through the Pettit facility in Milwaukee.
NCSA adheres to the recommendations of the US Olympic Committee Youth Development Model that athletes under the age of 13 limit sport-specific training.
It is important for young athletes to be encouraged to participate in many different activities, and it is detrimental to their physical and emotional development to focus solely on one activity at too young an age.